Dr. Andrew Bird joins Acino
Tuesday 2nd October 2018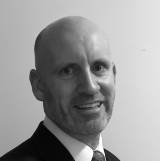 We are pleased to announce that Dr. Andrew Bird has joined Acino as General Manager for Middle East & Africa. Andrew will be part of our Executive Committee.
Andrew's 25 year career in the pharma industry started in research before roles in sales, brand management and management roles in MEA. Since 2009 he has held senior positions in the region, including South Africa, and most recently as the General Manager of the Gulf, Eastern Mediterranean & Maghreb Region at Bristol Myers-Squibb
As well as an excellent track-record in developing effective strategies and consistently delivering growth to bring medication to our markets, Andrew has also been recognized for his ability to bring teams together and develop those working for him.
'I am excited to join a company with a focus on growing in emerging markets. The healthcare landscape in the Middle East & Africa is rapidly changing and now more than ever it is important to deliver high quality affordable medicines to all patients in these markets' Andrew said.
We wish Andrew a good start with Acino as we promote high-quality, affordable healthcare in emerging markets.