Meet Michael Zehringer, Team Lead Stability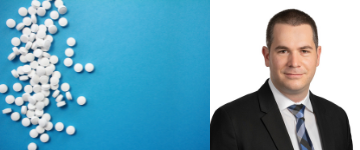 Dedication and expertise are key qualities necessary to provide flexible solutions to our customers, and we are lucky to have an expert group supporting our #ContractManufacturing efforts. Our colleagues have been sharing their insights into pharmaceutical manufacturing and how they make the most of Acino's state-of-the-art facilities to contribute to our customers' #outsourcing strategy.
Q: Tell us about your role at Acino
My team is responsible for all stability-related topics. We support cross-functional investigations by sharing knowledge and offering help to drive forward the investigative projects.
As Team Lead Stability, during the weekly team meetings, we figure out how to tackle deviations, identify trends and support new projects. For complicated tasks, I pro-actively support the team and identify the strengths and weaknesses of the individual members in order to develop them.
Q: How do you ensure that processes in your department are running smoothly?
The process must be simple and well-presented so that everyone involved understands and can apply it. I can help to continuously improve the processes and submit the adjustments in a carefully crafted transformation message to show the sense of the implementation.
Q: What are the challenges you face in your daily work and how do you handle them?
The unexpected challenges in the stability department can quickly find high appeal and often lead to short-term changes in the daily work routine. Handling them in the right way means to evaluate the impact, investigate the root cause, define the commitments with the corresponding timelines and re-organize.
Self-organization is the key to a problem-solving approach. Always being prepared for and aware of potential risks of upcoming quality deviations and continuously mitigating them reduces the probability of unexpected issues. Moreover, we must strengthen our knowledge about the product's stability behaviour in the team to be ready to take the necessary actions and ensure product quality and safety.
Q: What do you love most about your job?
The journey is the destination (as Confucius said). The most beautiful thing is to look back and see what we have achieved together and then take the momentum with us to grow further. When you feel that your contribution is meaningful and valued. It makes me really proud that Acino has high growth ambitions and even exceeds them.
Q: What do you like the most about your contribution to Acino's B2B activities?
The exchange and the chance to learn from each other and thus build a satisfying relationship with internal and external stakeholders.
Interested in quick site tour of our Swiss manufacturing facility, then visit our Liesberg site virtually here.