Acino closes the deal to divest its patch business to Luye Pharma Group Ltd.
Wednesday 30th November 2016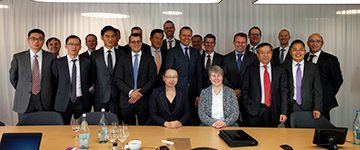 On November 30, 2016, Acino International AG and Acino Pharma AG (together "Acino") closed the deal with Luye Pharma Group Ltd. ("Luye"), which they announced on July 25, 2016, to sell Acino's transdermal patch and implant businesses. The divestment includes Acino's transdermal manufacturing operations in Miesbach, Germany, distribution, and R&D capabilities.
The divestment is in line with Acino's strategy of shaping the organization for growth in emerging markets and further expanding Acino's regional commercial presence in its key markets of the Middle East and Africa, the CIS region, and Latin America.
The divestment allows us to focus on growth in our key markets, and we believe that Luye's vision and strategy will further the expansion of the existing R&D and manufacturing capabilities in Miesbach. An R&D focused company like Luye will be able to leverage the high potential of our transdermal business in the best possible way in the future, including further global expansion.

Kalle Känd, CEO Acino
Acino retains the marketing rights to certain transdermal patches in its strategic emerging markets.