Acino South Africa certified as Top Employer for 2022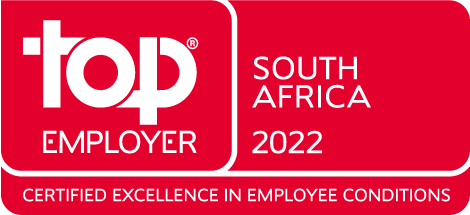 We are excited to share that Acino South Africa has been certified as a Top Employer for 2022 as a first-time participant. The programme extensively assesses, evaluates and validates —via a third-party audit— a company's human resources practices across a number of areas, and benchmarks it against other organisations and general best practice.
The focus categories of the programme include:
Steer: Business Strategy, People Strategy and Leadership
Shape: Organisation and Change, Digital HR and Work Environment
Attract: Employer Branding, Talent Acquisition and On-boarding
Develop: Performance, Career and Learning
Engage: Well-being, Engagement, Rewards and Recognition and Off-boarding
Unite: Values, Ethics and Integrity, Diversity and Inclusion, and Sustainability
"We strive to be an employer of choice, and being certified as a Top Employer showcases Acino's dedication to continuously improving the working environment and experience for our employees." – Sherusha Naidoo, Head of HR Acino English-Speaking Africa.
"Sherusha and the entire HR team in South Africa have done an incredible job in building the organisation we want to have. The Top Employer award is a testament to this, and receiving the award as a first-time participant is an impressive achievement, especially in these difficult times." – Sarah Egan, Chief Human Resources Officer.
The Top Employer certification is one of the world's most prestigious in the field of human resources management, acknowledging the quality of the work environment, professional development opportunities and programs available to our employees.