With our long-term experience in manufacturing of oral delivery forms, knowledge of our customers target markets & regulatory excellence, we can advise our customers in many aspects which leverages and completes our full contract manufacturing services.
With over 2,300 of our own registrations and more than 300 qualified raw material suppliers, Acino offers full contract manufacturing services. Independently if you require regulatory, quality or distribution advices, we can help you to make the right decisions.
Additional Services
Worldwide API/raw material/FDF sourcing
Worldwide API/raw material/FDF supplier qualification
Warehousing & distribution services
Regulatory assistance
Process optimization
Additional QC Services for customers
Transfer Projects
How to start a project right
Partnering starts with transparency and right expectations – before we go in to business together and discuss transfer projects, we make sure we understand our customers means in full. Our team will then propose the best options in the range of our capabilities.
Project Management and beyond
Our project management for transfer projects goes beyond the technical realization of your project: By assuring fairness and transparency in our project execution, we keep an eye on your budget and timelines.
The key to a successful project is always good planning – we strive for close collaborations and open communication right from the start.
Flexibility in all project stages
We know how requirements can change quickly, so we commit to highest flexibility in our offerings, services and in our everyday work to meet your expectations.
Acino's typical project timeline: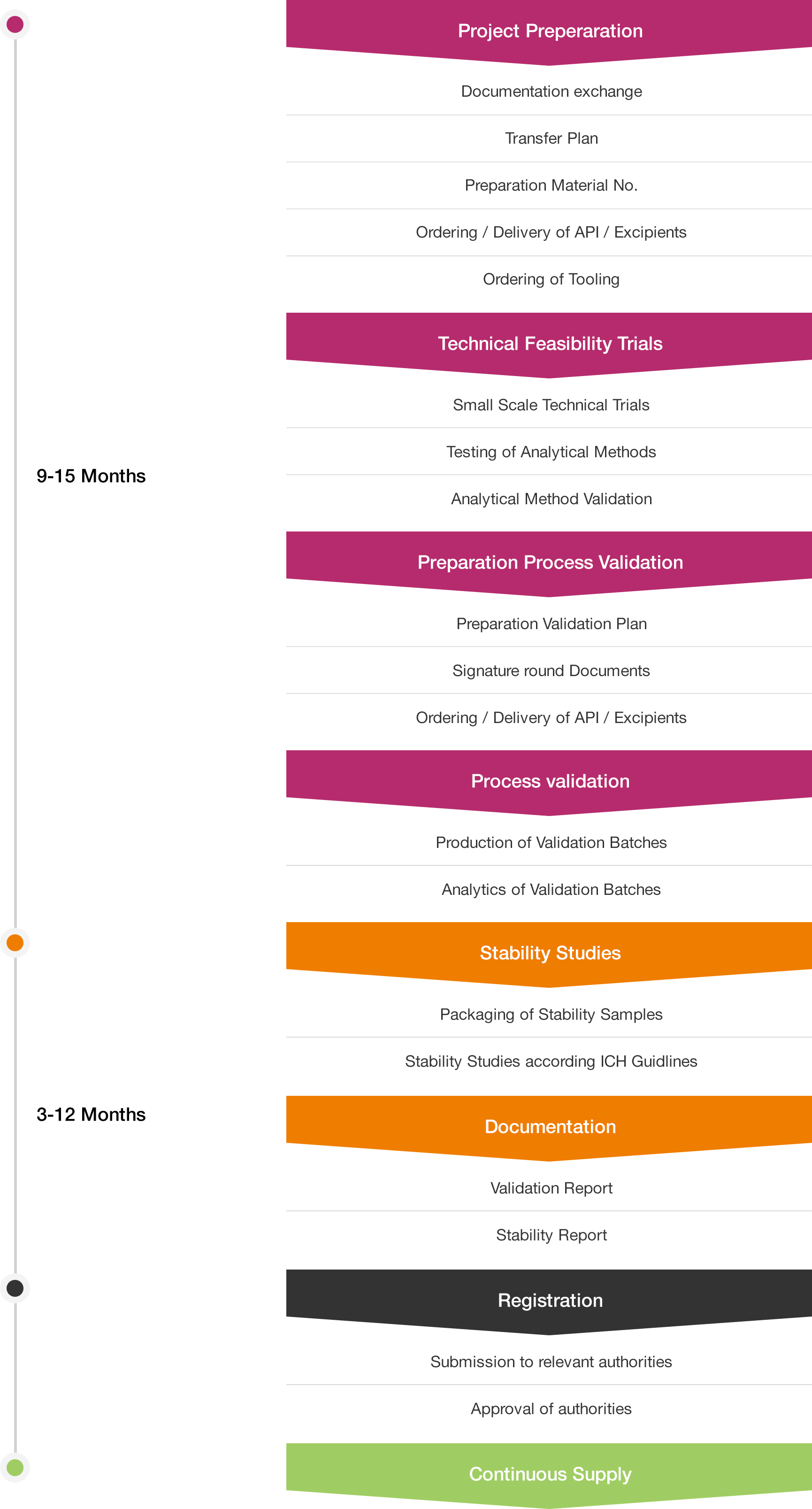 Continuous Supply
Commitment to timelines
As a Swiss company, we make a commitment to the deadlines and we agree with our clients on OTIF KPIs. With 99% of batch releases on time and 370 GDP conform road transports with external logistics partners, we assure that our customers receive their products on the agreed delivery dates.
Open and transparent communication
However, it is no secret that in contract manufacturing there are times when suppliers face challenges and it's times like this when it is all about pro-active, open and transparent communication and when you need a reliable partner – us.
If deadlines are ever at risk, we will inform our customers as soon as we know and give our customers a clear overview of the situation. Because when we know, you know!
Together with our customers, we will work on cost efficient and quick solutions to overcome any challenges there might be.
Our values
We live our values in Contract Manufacturing.
Trust: Establishing a trustful relationship between a customer and a supplier is the key element of each contract manufacturing relationship. We do everything to guarantee highest transparency to our customers.
Commitment: Delivery dates, timelines, agreements and creating creative solutions for our customers are sacred.
Courage: With over 50 years of experience we have been challenged with a lot of hurdles and uncertainties. Together with our customers we can tackle and overcome challenges we are facing.
Empathy: We know that you sometimes have restraints, especially with regards to timelines and budgets. At Acino, we understand and we will do everything to come up with solutions that work for both of us.